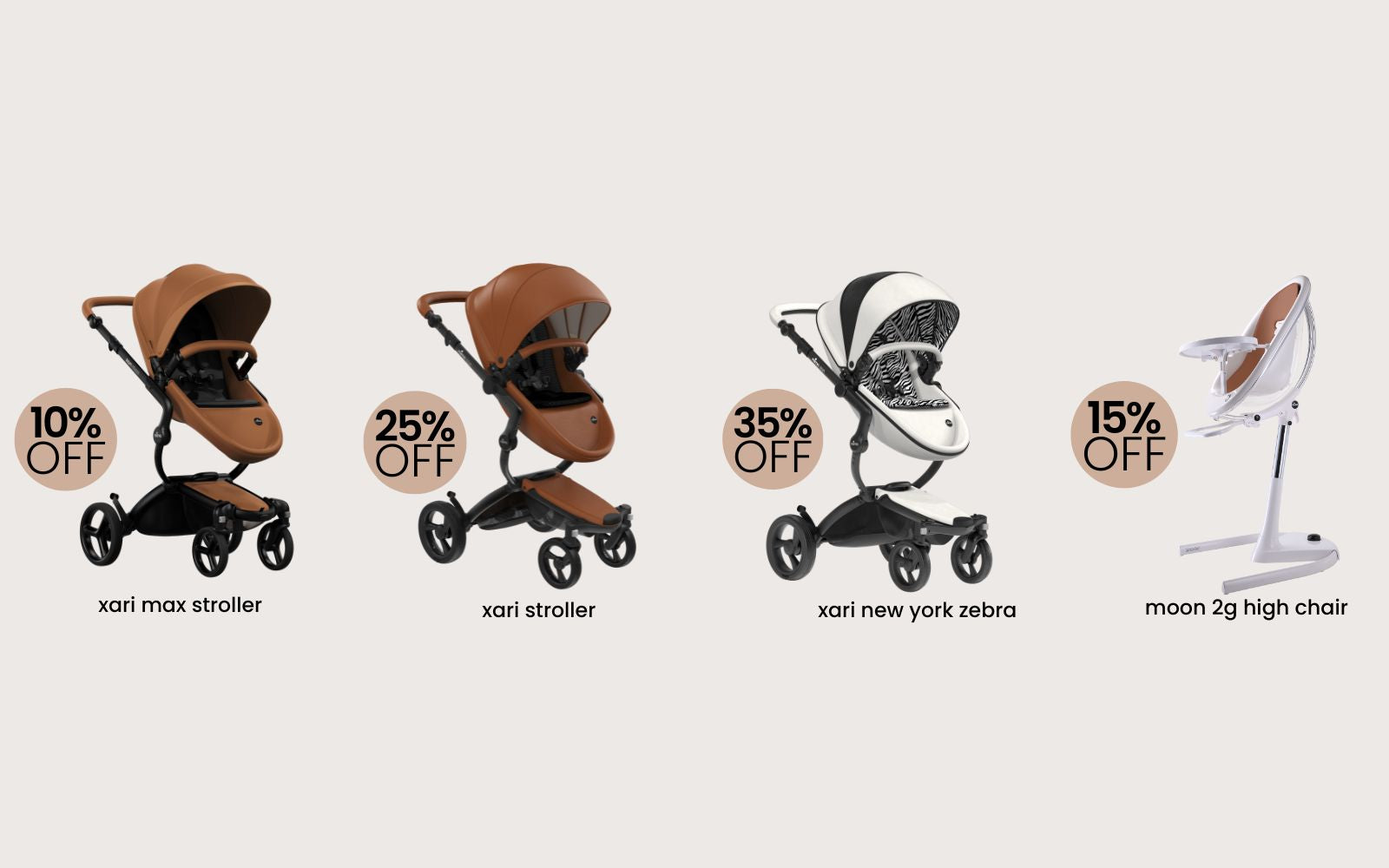 Sneak Peek at the Black Friday Deals Starting Friday, November 17th, 2023
As the holiday season approaches, anticipation for the most awaited shopping event of the year is reaching its peak. Get ready to dive into a world of incredible discounts and exclusive offers as mima unveils its Black Friday Sale 2023, set to kick off on November 17th and run through November 27th.
From stylish strollers to innovative high chairs, mima has something special for every parent, ensuring that your little ones ride and dine in both comfort and style.
Black Friday Deals: mima strollers & high chairs at the lowest price of the year.
mima xari max: The new arrival, launched just last month in the US. The xari max is an evolution of the signature xari with amazing upgraded features. Available at an irresistible 10% off during the Black Friday Sale, the mima xari max offers unmatched performance, adaptable functionality, and stylish design. Perfect for creating lasting memories when you stroll with your little one.
mima xari: The signature xari stroller is for a jaw-dropping 25% off! With its elegant design and practical features, the xari includes a newborn carrycot and toddler seat to grow with your little one. Adjustable handlebar, smooth navigation control and brakes, 5-point safety harness, and an amazingly stylish look for the modern parents.
mima xari new york zebra: Add a touch of glamour to your baby gear with the mima xari new york zebra stroller; a limited edition from the mima Around the World Collection is available at an incredible 35% off. Bold zebra-inspired embellishments add magic to this special edition. Purchase includes a zebra print sunny veil, embellished diaper bag, and bassinet. Thick seat padding in a wild zebra print gives wild style with endless comfort for your little one. Features include multiple reclines, forward or parent-facing seat options, an easy brake system, a 5-point safety harness, and more. Don't miss the chance to upgrade your strolling experience at a fraction of the cost!
mima moon high chair: The mima moon high chair, known for its versatility and modern design, is 15% off during the Black Friday Sale. The must-have 3-in-1 high chair essential that converts in three stages: Stage 1: Lounger for bottle feeding & soothing. Stage 2: High Chair for meal times & socializing. Stage 3: Junior chair for meal times & sitting.
A Special Offer for You
As a special holiday gift, mima is also offering a free ovi travel tote with purchases over $500 through the entire month of November. Perfect for carrying all your baby essentials, whether you are flying far or driving to grandma's for the holidays, the mima ovi suitcase is the perfect travel companion.
Get Ready to Shop mima's Black Friday Sale 2023
This year, mima's Black Friday Sale is not just a shopping event; it's a celebration of parenthood, style, and savings. Don't miss the chance to upgrade your parenting journey with top-of-the-line products that blend innovation with aesthetics. Mark your calendars, set your alarms, and get ready to embark on a shopping adventure that promises unmatched discounts and exclusive deals. You're invited to indulge in luxury for less, ensuring that you and your little ones step out in style. Happy shopping!