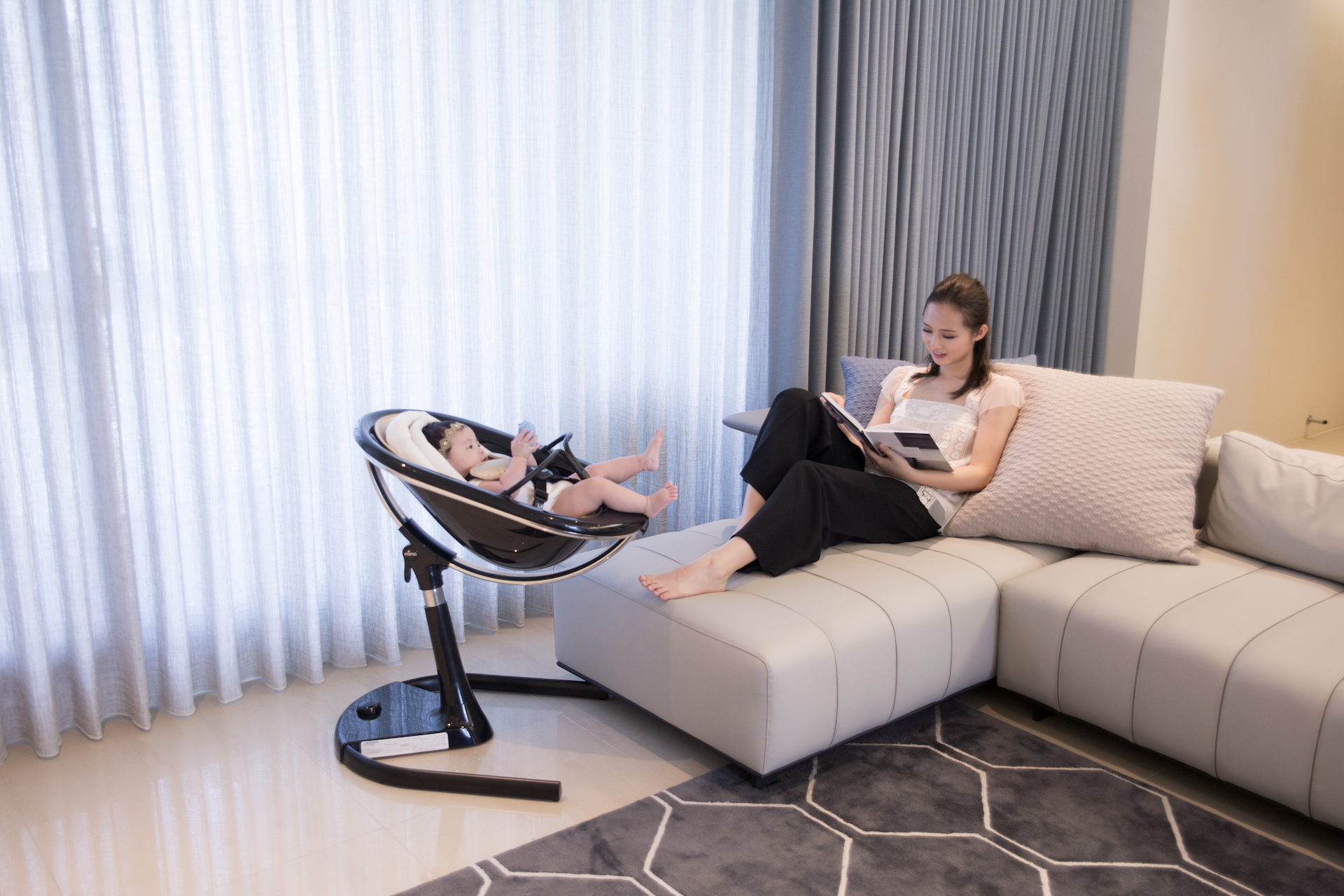 Fresco Bloom High Chair Alternative: mima moon high chair
The Fresco Bloom High Chair is a safe, sturdy high chair for your baby. This innovative design includes an adjustable 3-point safety belt that protects kiddies from tipping over and keeps them secure with a full 360-degree rotation. The Fresco Bloom includes a removable wrap for cozy warmth and protection from messes.

The Easy Click Connector makes it possible to attach the Fresco Bloom securely to any table or countertop up to 1 inch thick. The poncho can be removed for cleaning or when the seat is used without the poncho.

Fresco Bloom Chair is made of food-grade, BPA-free silicone, nonporous (won't absorb bacteria) and durable enough to withstand years of use. Interestingly, we have found a perfect alternative to this popular chair that benefits you in different ways, the mima moon high chair.

mima moon is a perfect alternative and the greatest competitor to the $300+ Fresco Bloom High Chair. It was created with a simple but beautiful design, superior and durable seat cushions, and is made in the USA. It comes in seven sizes that can easily fit most dining tables. This modern high chair is a perfect addition to any kitchen table!

If you're looking for an affordable but stylish alternative with exceptional performance. The mima moon is cheaper than other high chairs and constructed so well that it could easily function as a modern piece of furniture.

The mima moon is a full-size booster that fits tables from 24 to 36 inches in height and can accommodate children up to 45 pounds. The seat is made of a durable, stain-resistant microsuede, making it an excellent competitor to Fresco Bloom High Chair. It features an ergonomic design for maximum comfort (similar to the Fresco Bloom) with a slightly narrower design for smaller spaces.

The mima moon also comes with a machine-washable seat pad, removable tray, and nontoxic finish. Although the mima moon is not completely collapsible, it also folds up easily for storage purposes.

The table can be cleaned with a damp cloth and warm water or thrown in the washing machine for even quicker cleanup. The fabric is extremely easy to clean if your child makes a mess (which most likely will happen). I would recommend placing a few layers of towels on top of the seat just to be safe.

The good thing about this model is that it looks premium but is incredibly affordable. It comes in seven different sizes: 0 to 10 years. The seat of the mima moon can be removed from the table, so your little one can enjoy meals from a high and a standard chair.

The mima moon is especially good for tall parents. The designer recommends the 6-month size for those who are 6'1″ or taller. The higher tray is particularly useful for those who want to avoid bending over when feeding their little ones.

Unlike the Fresco Bloom High Chair, mima moon is made in the USA. mima moon is a lightweight, high-quality product that promises to give you years of use. The mima moon chair has two cool features: its design and the fabric cover. It is also perfect for those who can't afford the Fresco bloom high chair.

Another interesting feature of the mima moon high chair is the ability to meet home decor and provide a nice accent to our table. The seat design is similar to the popular mima moon high chair. It's sturdier and higher, giving it a modern look that will not require painting or other refinishing. Its clean simplicity blends in with most of your home decor and furniture.

The mima moon also has a storage option for the detachable tray (which can be washed in the washing machine). The existing storage covering the tray is also removable. This makes cleaning easier and allows you to access the tray easily.

The great thing about mima moon is that it works as a high and a regular dining chair, which is perfect for those with different table heights in their house. The mima moon high chair has a removable tray and washable seat pad. This feature is perfect for those sensitive to mildew and other germs that can spread from an empty tray.

mima moon high chair is mostly made of polypropylene and polyester and is a very lightweight product that can be moved around easily. The seat fabric is machine washable at 40 degrees C / 104 degrees F. This seat comes in 14 vibrant colors to choose from.

mima moon high chair is a popular product for those looking for a contemporary-look seat that would be stylish yet budget-friendly and long-lasting. mima moon is stable and designed so your child. If you do not have a lot of space, then the mima moon high chair will be perfect for you.